Antibiotic Therapy Products
________________________

Medi-SIS Syringe Infusion System

The Medi-SIS Syringe Infusion System is designed to deliver intermittent infusions or IV push medications. The Medi-SIS system utilizes proven spring technology to provide infusion times ranging from 15 minutes to two hours.

Features & Benefits
*Lower your infusion therapy costs, Medi-SIS is reusable for short-term delivery and is Medicare reimbursable
*Ideally suited for short-term IV antibiotic therapies or longer infusions
*Medi-SIS systems are flexible and suited for use in the hospital or alternate site setting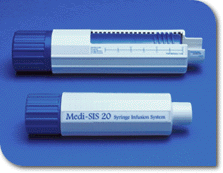 4000 CMS™

The 4000 CMS is a multi-therapy infusion system with flexible communication capabilities. It helps ensure faster, safer, more accurate programming of complex infusion protocols and helps reduce data entry related medication errors.


Antibiotic Therapies

Home antibiotic (IV) therapy is generally used for patients who have not responded to oral antibiotics. Patients with long term IV antibiotic or antiviral therapies require ongoing clinical monitoring. Our Infusion, LLC clinical team works closely with the patient's physician so that the appropriate therapy and care is being delivered.
Home IV antibiotic/antiviral medications will either be given by a slow IV push or the use of an infusion pump. The most commonly used pumps are a syringe pump or a small electronic pump. You will be provided the necessary training to administer your therapy. Remember, Infusion, LLC has 24 hour a day, seven days a week clinical support.
Most commonly used IV Antibiotics include:
• Vancomycin
• Rocephin (Ceftriaxone)
• Cubicin
• Nafcillin
• Cefepime
• Fortaz
• Tobramycin
• Cefazolin
Most commonly used IV Antivirals include:
• Acyclovir
• Ganciclovir
• Foscarnet
• Amphotericin B
• Ambisome
Commitment • Dedication • Excellence